Print Article
Know your Russian sanction red flags
10/03/2022
It is less than two weeks since sanctions and export control against the Russian government for its invasion of Ukraine, "all financial institutions" are on notice to "be vigilant" against potential sanctions evasion activity
To help all employees spot a sanction risk, they should be aware of "Red Flag indicators" that Russia, and related parties, may use to evade sanctions,
These red flags can include:

Use of corporate vehicles and shell companies to obscure ownership, source of funds, or for international wire transfers
Use of third parties to shield the identity of sanctioned persons or to hide the origin or ownership of funds
Opening or misuse of accounts in jurisdictions or with financial institutions experiencing a sudden rise in the value of transfers
Opening of new accounts that attempt to send or receive funds from a sanctioned Russian bank or those removed from the Society for Worldwide Interbank Financial Telecommunication (SWIFT)
Non-routine foreign exchange transactions that may involve sanctioned Russian banks
Transactions connected to virtual currency addresses listed by OFAC and other sanction bodies, e.g. UK/EU/UN
Use of virtual currency exchanges or MSBs in high-risk jurisdictions
Why This Matters:
Russian sanctioned persons may seek to evade western sanctions through various means, including facilitating trade and anonymizing their activities through non-sanctioned financial institutions, front companies, and non-sanctioned businesses and associates outside of Russia.
The U.S. advisory also calls on financial institutions to "consider how the use of innovative tools and solutions may assist in identifying hidden Russian and Belarusian assets."
50% Expanded Risk In Focus:  Alexei Aleksandrovich Mordashov hiding behind 50% rule
Recently sanctioned Russian oligarch Alexei Aleksandrovich Mordashov holds a majority stake in export companies based in Europe, Asia, and the U.S. through his ownership of Severstal PAO in Russia, according to corporate records and publicly available financial disclosures reviewed by Kharon. On February 28th, Mordashov was sanctioned by the European Union for "benefiting from his links with Russian decision-makers" responsible for the annexation of Crimea and the destabilization of Ukraine.
Mordashov owns more than a 50 per cent stake in

Holding companies registered in Cyprus that, in the aggregate, own a majority of Severstal PAO.
None of these companies is sanctioned.
But we cannot ignore the sanctioned by extension rules
Check out the ownership as shown by KHARON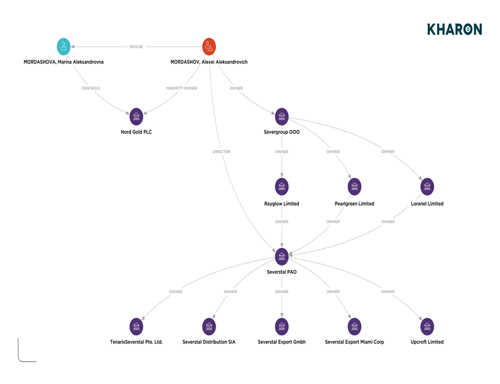 https://brief.kharon.com/updates/us-calls-for-vigilance-against-potential-russia-sanctions-evasion-activities/?utm_content=200630533&utm_medium=social&utm_source=linkedin&hss_channel=lcp-11688499