itrack | AML
Based on a methodology designed by public and private sector AML experts and mapped against local and international standards, Comsure's Risk Assessment tool (itrack AML) is a web-based solution that delivers a comprehensive, automated risk-based reportable profile of an institution's products, services, geographies and customer entities through a flexible and scalable platform for institutions of all sizes.

Comsure's Risk Assessment is a trusted, standardised means to measure, understand and explain an institution's money laundering risks.
Establishing AML standards based on global best practices and the latest guidance and regulation from authoritative sources worldwide
Providing Automation which aggregates multiple risk categories and provides seamless updates to address any regulatory changes
Utilising qualitative and quantitative data features which score risk and offer a comprehensive money laundering risk profile
Creating presentation-ready reports, charts and tables, allowing you to communicate your risk to stakeholders including regulators while eliminating the need for cumbersome manual reporting
Benchmarking and comparative reporting, providing a framework for future AML standards. Further to the above you can also verify your risks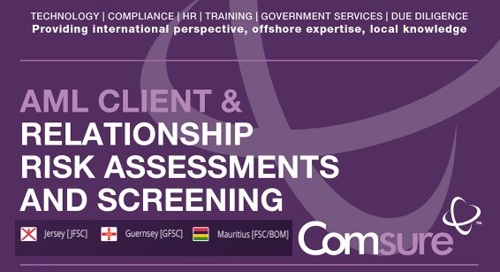 Comsure has developed a simple but effective risk measurement online tool (currently called "itrackAML").  Along with local requirements (JFSC/GRF, MFSC, SFSA etc.) ITrack meets the standards required by international regulatory bodies and international standard setters such as:
ITrack provides a bulletproof system to allow firms to demonstrate to "Regulators" the robustness of their AML systems, including:
Client Take On,
Verification*,
Risk Assessments,
Monitoring,
Management reporting (e.g. Pie/Bar summary graphs)
Reporting (Inc. Suspicious Activity Reports [SARs]) and
Record-Keeping (and GDPR data management)
*As an enhancement to the core functionality of iTrackRisk, Comsure can also offer ITrackSanctions - ITrackSanctions offers data screening through APIs into Sanction data (OFAC, UN, EU*) and Politically Exposed Person [PEP] [and other high-risk information] and Adverse Media data through a dedicated matching engine and Data suppliers such as
World-Check, Dow Jones (*) - [*Please note we can, if so requested, work with other data providers if so directed - if we can API into them, we can work with them!!].
These data sets can be matched singularly or batched as and when requested.
For further information, and see at a glance the core functionality of iTrackRisk