Print Article
JFSC 3 tier UBO guidance diagram updated – watch out for 10%-25%-or?%
25/08/2021
As of August 2021 [20th], the JFSC has updated our beneficial ownership guidance. The update includes the following updated 3 tier UBO guidance diagram: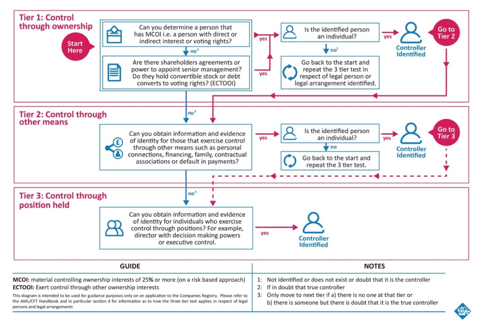 Warning - 10% or 25% or ?%
The JFSC say it applies the FATF standards in respect of beneficial ownership and control. To this end, a general threshold of 10% or more upon incorporation and 25% or more upon a change of beneficial ownership and control may be applied by corporate and legal entities registered in Jersey. However it is important to be aware that this is by no means a set threshold.
A case by case risk assessment is required. The determination to be made must be in line with the AML Handbook. Therefore, the threshold will depend on the risk assessment conducted.
The risk assessment conducted must be on the relationship as a whole. For example, upon a change of beneficial ownership, where a regulated service provider views a 20% beneficial owner is high risk, the regulated service provider should consider registering the beneficial owner on the central register even though its interest is less than the 25% threshold. This is in line with the regulated service provider's role as a first line of defence in respect of the prevention and detection of money laundering and the financing of terrorism.
Regulated service providers must ensure that any concerns relating to beneficial owners or business activity are highlighted to us in myRegistry upon incorporation or change (we refer to the Sound Business Practice Policy - jerseyfsc.org/industry/guidance-and-policy/sound-business-practice-policy/).
https://www.comsuregroup.com/news/jfsc-beneficial-ownership-3-tier-ubo-guidance-diagram-updated-along-with-x2-other-changes/
Aug 2021 update:
Read more: