Print Article
50% Expanded Risk In Focus: is Alexei Aleksandrovich Mordashov hiding behind 50% rule?
10/03/2022
Recently sanctioned Russian oligarch Alexei Aleksandrovich Mordashov holds a majority stake in export companies based in Europe, Asia, and the U.S. through his ownership of Severstal PAO in Russia, according to corporate records and publicly available financial disclosures reviewed by Kharon. Furthermore, on February 28th, Mordashov was sanctioned by the European Union for "benefiting from his links with Russian decision-makers" responsible for the annexation of Crimea and the destabilization of Ukraine.
Mordashov owns more than a 50 per cent stake in

Holding companies registered in Cyprus that, in the aggregate, own a majority of Severstal PAO.

None of these companies is sanctioned.
But we cannot ignore the sanctioned by extension rules
Check out the ownership as shown by KHARON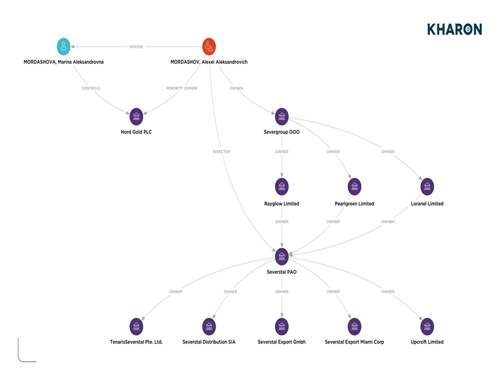 https://brief.kharon.com/updates/us-calls-for-vigilance-against-potential-russia-sanctions-evasion-activities/?utm_content=200630533&utm_medium=social&utm_source=linkedin&hss_channel=lcp-11688499
SANCTIONS
EU
YOUTUBE-IMAGE