Print Article
X9 new AML codes across five sections of the JFSC handbook
31/01/2023
X9 new AML codes across five sections of the JFSC handbook
The JFSC is proposing to add a range of new Codes of Practice across five sections of the Handbook and as follows.
= 5.1 Section 2.5

1.1 When in receipt of a Risk Questionnaire from the JFSC, a supervised person must complete and return said questionnaire by the deadline provided.

= 5.2 Section 3.3

2.1 A supervised person must understand the purpose and intended nature of a business relationship or one-off transaction.
2.2 A supervised person must understand the nature and scope of the business activities generating a customer's funds/assets.

= 5.3 Section 6.2

3.1 A supervised person must undertake sanctions screening for all business relationships and one-off transactions.

This screening must include the customer, any beneficial owners and controllers and other associated parties. The screening must  be carried out at the time of take-on, periodic review and when there is a trigger event, i.e. amendments made to the sanctions designations lists.

3.2 A supervised person must sign up to receive sanctions e-mail alerts from the JFSC and sanctions notices from the Government of Jersey, which are publicly available on the Jersey Gazette
3.3 A supervised person must ensure their sanctions monitoring arrangements include an assessment of the effectiveness of their sanctions controls and their compliance with the Jersey sanctions regime.

= 5.4 Section 9.2

4.1 Where a supervised person carries on Investment Business (within the meaning of the FS(J) Law) they must also undertake credit checks on any customer-facing employees who solicit funds from customers .
4.2 In respect of the employees described in paragraph 9 above, a supervised person carrying on Investment Business must repeat the screening process where they become aware of any change in an employee's circumstances which increases the risk that the employee may be involved in money laundering, the financing of terrorism or a predicate offence of the same.

5 = 5.5 Section 10.2

5.1 As part of the supporting documents, data and information to be kept in respect of a business relationship or one-off transaction, a supervised person must keep the following documents:

5.1.1 accounts files and
5.1.2 business correspondence.
ALSO SHOWN HERE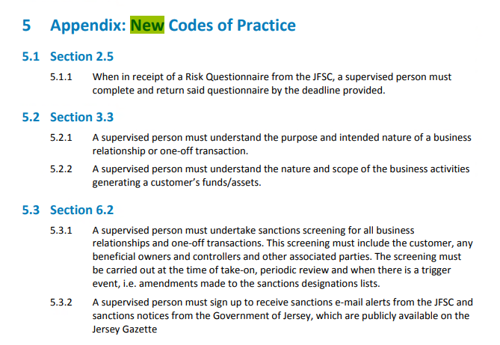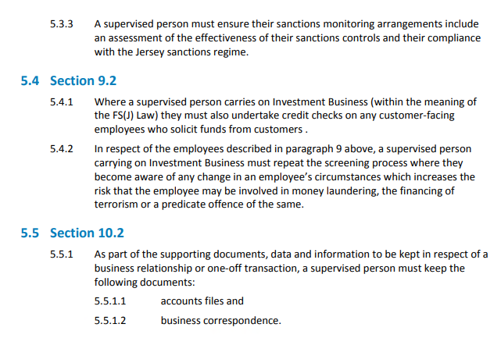 The deadline for comments to the consultation paper WAS 13 January 2023.
https://www.jerseyfinance.je/wp-content/uploads/2022/11/JFSC-No-12-2022-Further-Enhancements-to-the-AML-CFT-Handbook.pdf
SOURCE
Consultation Paper No 12 2022 : Further Enhancements to the AML/CFT Handbook - https://www.jerseyfinance.je/check-file?file=wp-content/uploads/2022/11/JFSC-No-12-2022-Further-Enhancements-to-the-AML-CFT-Handbook.pdf