Print Article
WOW…..COMSURE IS 18
17/04/2023
Thanks to the LinkedIn community for their kind words about Comsure and my 18th anniversary.
In 2005 I founded Comsure (www.comsuregroup.com), here in my timeline.
After working in the asset management industry for ten years, I have focused on financial services regulation.
Between 1995 and 2002, I worked for the body now known as the Jersey Financial Services Commission [JFSC], where I was responsible for the day-to-day conduct of regulated entities and where he reached the position of Senior Compliance Manager.
Since 2002, I have worked in private practice in all aspects of regulatory compliance, including:
* Attending various financial services businesses to assist them in their internal audit processes;
*Developing rectification programmes for entities which have come under regulatory review;
*Undertaking several reporting professional projects for the Jersey Financial Services Commission;
* Being involved in the preparation of the anti-money laundering guidance notes in Mauritius;
*Writing and delivering numerous training courses relating to compliance for private and public bodies.
From 2002 until May 2005, I was a senior lecturer on the International Compliance Association's (ICA) Introductory Certificate in Compliance, the International (and UK) Diploma in Compliance and the UK Diploma in Anti-Money Laundering. I am the co-author of the materials used by the ICA in their UK and International Diplomas in Compliance.
In 2005 I founded Comsure (www.comsuregroup.com), and the rest is history :)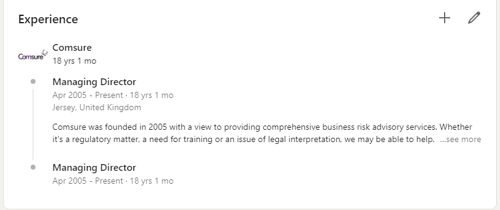 JERSEY
COMSURE VIEWS
YOUTUBE-IMAGE
COMSURE TRAINING TIPS
COMSURE SERVICES