Print Article
Useful risk guidance [for all] in the JFSC NPO AML guidance handbook [section 17]
10/01/2023
In section 17 [PRESCRIBED NON-PROFIT ORGANISATIONS] of the JFSC Handbook for the prevention and detection of money laundering, the countering of terrorist financing,and the countering of proliferation financing [DATED : 1 January 2023] te following risk guidnace notes and images were publisehed.
Although the following has been published in only section 17 for NPOs the guidance can be used as a steer/guide for all AML regulated persons.
THE RISK ASSESSMENT CYCLE
Risk monitoring is a dynamic and cyclical process. It ensures that any new risks are addressed as they arise and establishes how previously identified risks may have changed.
The below diagram from the JFSC Handbook and has copied the UK Charities Commission illustrates the risk assessment cycle: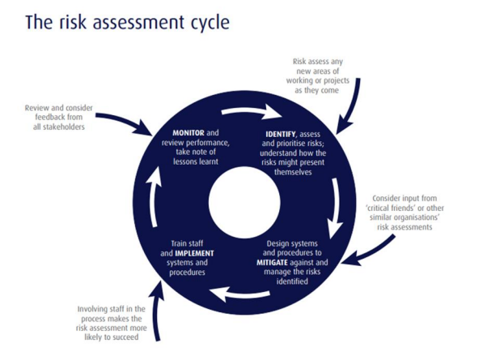 Read more here –
PROGRAMME RISK ASSESSMENT (PRA)
A risk-based approach can be established through the completion of a programme risk assessment (PRA)
An example of a NPO PRA checklist can be downloaded from the JFSC website and modified, as appropriate: draft programme risk assessment checklist.
This template is not intended to be rigid or prescriptive. A NPO may wish to make amendments to the checklist to account for the specific risks relevant to its activities.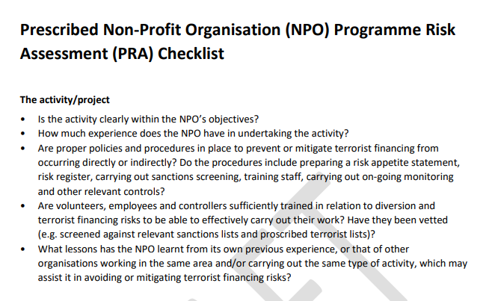 READ MORE HERE
DIVERSION RISK
A Prescribed NPO must define and document their approach to Diversion risk in a risk appetite
Statement
A Prescribed NPO may demonstrate they are adequately monitoring risk by keeping records of
their monitoring activities in a Diversion risk register.
An example of a Diversion risk register can be downloaded from the JFSC website: and as shown below .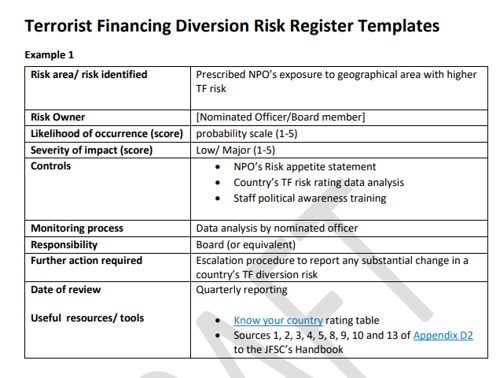 READ MORE HERE