Print Article
UK company set up in name of a JERSEY/UK SANCTIONED individual who is A top Putin official in Ukraine.
28/04/2023
A UK company Grainholding Ltd has been set up in the name of one of Vladimir Putin's top officials in Russian-occupied eastern Ukraine despite him being under sanctions.
Volodymyr Saldo, a Kremlin puppet in the Russian-occupied territories, listed as firm's owner, despite being under sanctions.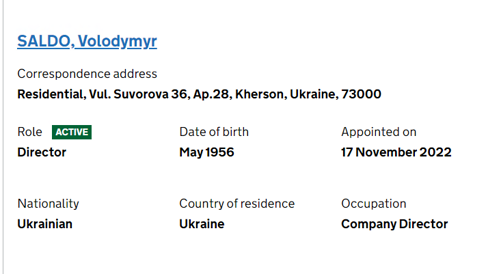 https://find-and-update.company-information.service.gov.uk/company/14490381/officers
The company documents say Grainholding has £1m in capital, with Saldo owning half the shares and another Ukrainian the rest.
Jersey sanction notice
https://www.gov.je/gazette/pages/financialsanctionsnoticerussia06april2023.aspx
VOLODYMYR SALDO BACKGROUND
According to the independent news site Meduza, Saldo is the "most influential regional politician to support Russia's occupation of southern Ukraine".
A gaunt man in his 60s, he had been Kherson's mayor for 10 years before being elected in 2012 to the national parliament for the party of the pro-Russian president Viktor Yanukovych. Saldo's political career later waned. In 2016 he was accused of having cut deals with Russian intelligence but no charges resulted.
When Russian troops surged into Ukraine in February 2022, Kherson was a prize. It formed part of the "land bridge" linking Russia to Crimea. Within weeks, Saldo had been named head of the region's "military-civilian administration". He has presided over rampant looting.
When he became one of the first Ukrainians in occupied territory to accept Putin's offer of a Russian passport, Saldo declared: "I have always thought that we are one country and one people."
After falling ill – his aides denied reports he had been poisoned – Saldo resumed his duties. But late last year a Ukrainian counteroffensive forced Russian forces to withdraw from Kherson to the far bank of the Dnipro river.
Before the city fell, Saldo responded by shepherding civilians to the area still under Russian control, where he has announced the construction of a new town. The house he left behind was searched by Ukrainian police. He has been charged with treason in Ukraine.
Saldo's personal business interests are reported to range from construction to the manufacture of yoga kit.
The entry on the official UK registry for Grainholding, the company founded with Saldo as a listed owner, suggests he may have expanded into Ukraine's lucrative trade in agricultural commodities.
This month, Saldo travelled to Moscow for an audience with Putin at the Kremlin.
According to an official transcript of their meeting, Saldo asked for assistance with gas supplies and 25bn roubles, or about $300m, for a warehouse to help Kherson supply Russia with vegetables. "We will certainly help you," Putin replied. Days later, Putin visited parts of the Kherson region still under Russian control.
VOLODYMYR SALDO AND COMPANIES HOUSE
Volodymyr Saldo, is listed as the owner of a UK company registered in November, five months after his name was added to the sanctions list.
In June 2022 the government imposed a freeze on any UK assets Saldo owns and banned him from entering the country.
British officials accuse him of "promoting policies and actions which destabilise Ukraine and undermine or threaten the territorial integrity, sovereignty or independence of Ukraine".
Yet since November he has been listed as the proprietor of a British company with an address in the Hatton Garden district of central London.
Companies House, the UK corporate registry, does not require proof of identity when people form companies. Saldo did not respond to questions about his involvement in the company, Grainholding Ltd.
But his entry on the sanctions list has been updated since Grainholding was registered, to draw in details from the company's incorporation documents, suggesting that the UK authorities were aware of its existence and regarded the paperwork as genuine.
A government spokesperson declined to say whether any action had been taken against Grainholding, which remains listed as an active company. "We do not comment on individual cases," he said.
Margaret Hodge, a Labour MP pushing to strengthen sanctions enforcement, said:

"Does this company make money? We don't know.
Does it have a UK bank account? We don't know.
Does law enforcement know about this? We don't know.
And have they frozen this asset? We don't know that either.
This system is a mess from start to finish."
Grainholding has no connection with the Hatton Garden office block given as its address in the incorporation documents, a representative of the corporate services firm that runs the building told the Guardian.
The representative said the corporate services firm had alerted Companies House to what she said was the unauthorised use of its address shortly after Grainholding appeared in the registry in November.
Only five months later, when the Guardian began to make inquiries in April, was the address altered in a public filing by the registrar.
There is no suggestion that Saldo or Grainholding have been involved in corruption or money laundering. However, the fact that the firm was created in the name of a Putin official under sanctions raises wider questions about the lack of oversight of UK companies.
UK COMPANIES HOUSE
The UK government has made economic pressure a central part of its attempts to undermine Putin's war in Ukraine. But more than a year after the invasion, proposals that would make it a crime for people under sanctions to set up UK companies have yet to become law.
Shortly before Russia invaded Ukraine, Graeme Biggar, then head of economic crime at the National Crime Agency, gave evidence to MPs about so-called "laundromat" techniques for moving dirty money out of the former Soviet Union. He said

"A disturbing proportion of the money that comes out of those laundromats – not much shy of 50% in one case – were laundered through UK corporate structures".

Even if Saldo's Grainholding stake or its assets were frozen, simply possessing a UK company could have benefits for foreign owners, said Tom Mayne, a research fellow at the University of Oxford who specialises in the former Soviet Union.

"It confers a sense of legitimacy, having a UK company, that can be used elsewhere to move money. It gives you the keys to the getaway car by allowing you access to our company registration system."

UK companies were used in 52 of the biggest corruption and money laundering schemes that have come to light worldwide, cumulatively involving about £80bn in illicit wealth, Transparency International found in 2017.
So lax are the controls at Companies House that the incorporation documents alone are not confirmation that Saldo actually formed Grainholding.
The government has proposed obliging people forming companies to prove their identity. But because the proposals are yet to be enacted, a new venture's named owners do not have to prove they are who they say they are.
Source
https://amp-theguardian-com.cdn.ampproject.org/c/s/amp.theguardian.com/world/2023/apr/27/volodymyr-saldo-uk-company-set-up-in-name-of-top-putin-official-in-ukraine
JERSEY
UNITED KINGDOM
SANCTIONS