Print Article
The Wagner group is set to be listed as a terrorist entity
12/05/2023
Following UK sanctions, the UK is set to list the Wagner group as a terrorist entity. The reasons given for listing Wagner as a terrorist entity are signalling (Russians not wanting to join a listed entity) and enabling civil action against the group.
The UK imposed sanctions on the head of the group, Yevgeny Prigozhin, in 2020 and on the group itself in March 2022, immediately after the Russian invasion of Ukraine, in which Wagner has played a large part. UK ministers, led by the Home Office, have been looking at proscription for months and bracing themselves for a highly critical report from the foreign affairs selects committee on the government's lack of grip on the Wagner phenomenon. Proscription is a ministerial decision guided by criteria set out in the Terrorism Act 2000
The difficulty here will be determining what the Wagner group is.
Will all individuals and entities that make up the Wagner group be listed? Or
just some nebulous, amorphous (and largely invented) "Wagner Group"?
TO CONSIDER WHO THE WAGNER GROUP IS, THE FOLLOWING MAY HELP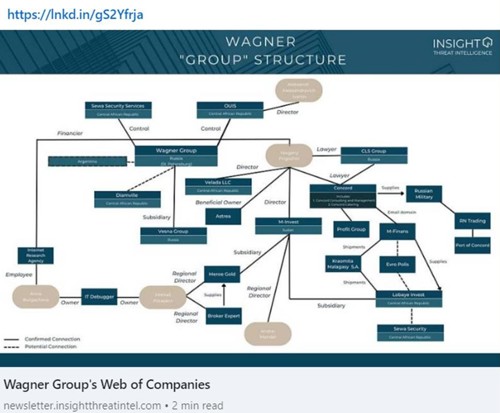 Source