Print Article
The JFSC publish its Thematic examination programme 2023
25/01/2023
The JFSC has published its visit plans for 2023. In summary, they are looking at the following:-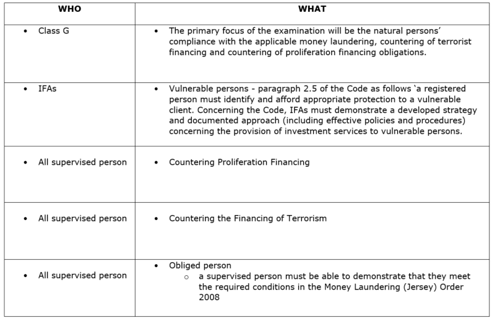 The JFSC say:
A particular topic or topics are selected for consideration and review across many different entities and/or individuals from the same sector or across sectors.
This enables the standard of compliance and associated risks on the topic to be assessed more broadly.
Examinations may be conducted through various means, including a questionnaire, in-depth examinations/desk-based activity or a combination of both.
If your business is selected for inclusion in a thematic examination, the JFSC  will contact you in due course to provide further details about the examination process.
2023 themes in more detail
Natural persons undertaking Class G trust company business
Natural persons acting or fulfilling the function of or arranging for another person to act or fulfil the position of a director or alternate director of a company require a Class G trust company business licence. These individuals are often sought to provide expertise in one or more specific areas, for example, real estate funds or hedge funds, or act as trusted family advisors concerning privately owned companies.
The primary focus of the examination will be the natural persons' compliance with the applicable money laundering, countering of terrorist financing and countering of proliferation financing obligations.
For example,

Supervised persons must demonstrate that they have a comprehensive business risk assessment, effective systems and controls concerning taking on new customers and be able to evidence they have undertaken relevant training.

The JFSC  will also review compliance with certain key parts of the Code of Practice for Trust Company Business as it applies to natural persons.
Independent Financial Advisers – investment services to vulnerable persons
Principle 2 of the Investment Business Code of Practice states that "a registered person must have the highest regard for the interests of its clients'.
In particular, the requirements in respect of vulnerability are set out in paragraph 2.5 of the Code as follows 'a registered person must identify and afford appropriate protection to a vulnerable client.
Independent Financial Advisers must demonstrate a developed strategy and documented approach (including effective policies and procedures) concerning the provision of investment services to vulnerable persons.
The JFSC has previously published guidance notesoutlining its expectations regarding the treatment and level of care provided to vulnerable or potentially vulnerable persons.
Reliance on obliged persons
Supervised persons may meet their obligations to apply certain Customer Due Diligence (CDD) or Enhanced CDD measures by relying on measures that an OBLIGED PERSON has already used to find out and obtain evidence of the identity of a mutual customer.
Reliance must always be subject to

The conditions set out in the Money Laundering (Jersey) Order 2008 and
To the extent that a supervised person places reliance on an obliged person,

A supervised person must be able to demonstrate that they meet the required conditions in the Money Laundering (Jersey) Order 2008
Countering the Financing of Terrorism / Countering Proliferation Financing
In general terms,
Terrorist financing
Is the provision or collection of funds from legitimate or illegitimate sources
With the intention of, or in the knowledge that these funds are intended to be used to carry out any act of terrorism,
Whether or not those funds are used for that purpose.
Proliferation financing
Can be described as providing financial services and products for the transfer and export of nuclear, chemical or biological weapons, their means of delivery and related materials.
It involves financing trade in proliferation-sensitive goods
But could also include other financial support for legal or natural persons or arrangements engaged in proliferation.
The examination will determine how well JFSC-supervised persons have implemented effective measures to counter terrorist financing and proliferation financing.
SOURCE
https://www.jerseyfsc.org/news-and-events/thematic-examination-programme-2023/
End