Print Article
Russia Sanctions and risk assessing partners, clients, and suppliers:
05/04/2022
There are three important aspects that all businesses must consider when conducting a thorough risk assessment of their partners, clients, and suppliers:
The new listings contain entities and individuals that are interconnected; the link between them may be personal, professional or through shared ownership.
For example,
Yevgeniy Prigozhin is a known associate of Vladimir Putin and has been instrumental to furthering Russia's interests in the Central African Republic.
He also finances the Internet Research Agency and is believed to be the manager and financier of the private military company Wagner; both entities are sanctioned.
Prigozhin himself was designated in 2020.
On the 3rd March his, wife, two children and four companies linked to him were added to the restrictive lists.
Another example is Promsvyazbank.
In addition to the main entity, 17 of its subsidiaries, all of which are in Russia, were blacklisted by OFAC.
the same approach was applied to the designation of Vnesheconombank (VEB),
Where 25 of its subsidiaries were restricted by OFAC.
They include banks and other financial firms, electronic component producers, a coal mining company, real estate companies, and an insurance firm.
These entities are located in Russia and three foreign countries, Belarus, Ukraine and Hong Kong.
Senior executives of the above-mentioned businesses were also added to the restrictive lists.
In some cases, several members of a family are in senior positions. For instance,
Denis Bortnikov is a deputy president of VTB Bank and a chairman of the VTB Bank Management Board.
He is the son of Aleksandr Bortnikov, the Director of the Federal  Security Service of the Russian Federation and a permanent member of the Security Council of the Russian Federation.
The new sanctions shed light on the involvement of former high-ranking politicians to Russia's economy as many of them were appointed as members of the advisory boards and the boards of key Russian companies.
As a result of the recent escalation of the Ukraine conflict,
Finland's former prime minister, Esko Aho, resigned as a director of Sberbank,
while former Italian prime minister Matteo Renzi said he had quit the board of Russia's largest car-sharing service, Delimobil (not appearing in any list).
Former Austrian Chancellor Christian Kern departed from the board of Russia's state-owned railway company RZD (sanctioned in February by OFAC and Canada).
Former French foreign minister François Fillon was on the board of petrochemicals group Sibur and state oil group Zarubezhneft, but also announced that he would be resigning in protest over Russia's invasion of Ukraine.
There are other high-profile personalities that are involved with key Russian corporates, e.g.
Former German chancellor Gerhard Schroeder who has a seat in Rosneft, and potentially Gazprom, and
At least two former BP executives were on the board of  Rosneft due to the former owning 19.75 % of the latter's shares.
Matthias Warnig, a former Stasi officer and CEO of North Stream 2 was also placed on OFAC's SDN List, together with the energy company conglomerate itself.
Many global companies operating in Russia decided to divest from its market:
BP which will be selling its $25Billion stake in Rosneft. Shell also declared that it would be suspending its joint venture projects with Gazprom.
Norwegian energy giant Equinor will stop new investments in Russia and exit all existing joint ventures in the country.
Norway's Sovereign Wealth Fund will also be divesting from Russia.
Many other leading companies in the technology, maritime transportation, air and civil aviation, food, and clothing industries have already made the decision to stop their operations in Russia.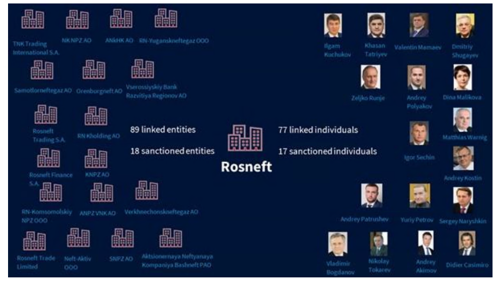 The EU and OFAC first sanctioned Rosneft in 2014 when restrictions were imposed on certain goods, services and technologies for Russia's energy sector.
The limitations were expanded in time and have encompassed many of Rosneft's subsidiaries in the energy and finance sector as the graph displays.
Igor Sechin, Rosneft's CEO, was blacklisted by OFAC as early as 28 April 2014 and was sanctioned by the EU and several other countries such as Japan, Australia, and the UK due to the recent events in Ukraine.
Other linked sanctioned individuals include
Andrey Patrushev, who was designated by OFAC, Canada and Australia this February and March.
He is a son of Nikolay Patrushev, the Secretary of the Security Council of the Russian Federation, who has been under restrictions since 2014.
Many of the Rosneft-linked entities and individuals that are not sanctioned include other state-owned enterprises and politically exposed persons and businesses, indicating many additional red flags when considering financial crime compliance exposure.
This is going to be an exhausting exercise for many organisations, particularly the banking and finance sectors as looking at just Rosneft, we can see how highly interconnected and widespread the relationships between other affected entities and individuals are.

https://2598139.fs1.hubspotusercontent-na1.net/hubfs/2598139/ARI%20-%20Russa%20Sanctions%204APR2022.pdf?utm_medium=email&_hsmi=208903500&_hsenc=p2ANqtz-8E3_YOU2cCtPkb-GZLckyGq-yXgv3ZiGhdMbdbGWI5A7Lk6Spo4Zt8PVuKAhtUiUxomjCQ1gYFF5FevrMvwvov2PIgrg&utm_content=208903500&utm_source=hs_email