Print Article
Prioritizing profits over people in the Central African Republic
19/08/2021
Today "The Sentry" published our latest investigative report revealing how a subsidiary of a multinational conglomerate operating in the Central African Republic (CAR) placed its business interests ahead of the safety of civilians, working with violent armed groups to protect its market shares.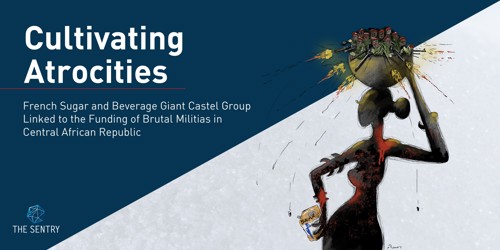 The Castel Group is a family-owned, multibillion-dollar food and beverage empire with operations in 50 countries. The French giant is the third-largest wine producer worldwide, the second-largest brewer in Africa, and a major bottling partner for Coca-Cola in Africa. In CAR, its subsidiary African Sugar Refinery of the Central African Republic (SUCAF RCA) made a tacit agreement with the notoriously brutal militia group the Union for Peace in the Central African Republic (UPC) in an attempt to maintain its monopoly on the sugar business. As part of their tacit agreement, which lasted from late 2014 to March 2021, UPC leaders secured SUCAF RCA's factory and sugar cane fields, ensured free movement on key roadways, and helped assure the company's monopoly on sugar distribution in several prefectures, including through the forced seizure of smuggled sugar. In return, SUCAF RCA supported the militia through direct and indirect cash payments, as well as through in-kind support in the form of vehicle maintenance and fuel provision.
The Sentry's investigation shows that this agreement existed despite company officials' knowledge of the UPC having committed an array of atrocities, including mass killings, abductions, torture, child soldier recruitment, sexual and gender-based violence, and a deadly attack on a camp sheltering 18,000 displaced people. The United Nations has identified the armed group's exactions as potential war crimes and crimes against humanity.
In the pursuit of profit, Castel Group's subsidiaries left Central African civilians vulnerable to a deadly militia and helped fuel armed conflict in CAR. Not only are the civilians forced to pay for the most expensive sugar in the region, but the money they pay as sugar consumers has helped finance the very criminals and deadly weapons terrorizing and killing them. "Cultivating Atrocities" offers key recommendations for the international community, including launching urgent investigations and designating network sanctions, to hold accountable those potentially complicit in the crimes committed against civilians.