Print Article
Mauritius FSC ANNUAL REPORT 2020/21 – some notes on MC visits and enforcement
24/01/2022
With over 19,000 entities under its purview, the completion of this action item required the FSC to develop a well-articulated plan that effectively directs supervisory focus to areas of higher money laundering and terrorist financing risks by targeting higher risk entities for onsite inspections. As a result, the FSC conducted 771 (4%) inspections in the reporting period.
The visits resulted in 110 (14%) being looked at by the enforcement committee, which resulted in show cause letters issued, sanctions and monetary penalties imposed.
The types of administrative sanctions taken by the EC July 2020 to June 2021 July 2019 to June 2020
Revocation of Licences [5]
Disqualification of Officers [8]
Private Warning [6]
Public Censure - -
Administrative Penalty [11]
Concerning MC AND In line with the FATF Action Plan, 55 inspections had been earmarked for the TCSP sector for 2020/21 AML/CFT Inspection Cycle 1.
Moreover, 7 MCs that had severe deficiencies and breaches in their AML/CFT framework were referred to Enforcement Directorate for relevant enforcement/follow-up actions. One of those MCs was targeted for a follow-up inspection.
The visits plan for MCs
At close of the year under review, despite the COVID-19 pandemic, all the 55 MCs were inspected. To enable the proper and smooth conduct of the AML/CFT onsite inspections, the FSC Mauritius developed and implemented an online Onsite Inspection Model. The onsite inspections focused on the following areas of AML/CFT amongst others, and involved "walk-through" verifications:
The Enterprise Risk Assessment and Client Risk Assessment;
Policies and Procedures pertaining to AML/CFT, proper risk rating of clients, ongoing monitoring of clients and their transactions;
Proper record keeping of Customer Due Diligence (CDD) documentations and client transactions;
Independent CDD and reliance on third parties for CDD;
Beneficial Owner;
Ongoing Monitoring;
Politically Exposed Persons;
Targeted Financial Sanctions (TFS) including sanctions screening tools and assets freezing;
Enhanced Measures;
Suspicious Transactions Reporting process and internal disclosure mechanism and use of new technologies;
Money Laundering Reporting Officer (MLRO);
Compliance Officer and adequacy of resources;
Board of Directors/Senior Management oversight;
AML/CFT Training;
AML/CFT Audit; and
Client file reviews.
Based on the findings following the inspections, certain gaps were identified.
Accordingly, MCs were tasked to adopt a remedial plan. The FSC Mauritius ensured that these remedial plans submitted by licensees were effectively implemented.
From the remedial plans received during the year under review, it was noted that MCs understood the scope and rationale for the AML/CFT inspections conducted.
The remedial plans were comprehensive and time barred.
Subsequently, after 2 months, MCs provided a Status Report backed by appropriate documentary evidence of actions taken (e.g. Business Risk Assessment (BRA) and AML/CFT Audit reports).
Figure 1: TCSP level of compliance Post Onsite Compliance Strengths v/s Post Remedial Compliance Strengths (Per Parameter)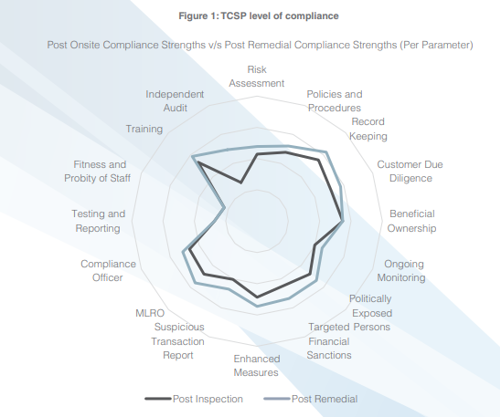 The above diagram illustrates the level of AML/CFT compliance achieved by TCSP post inspections and follow-ups. It can be noted that significant improvement has been achieved on risk assessment independent audit, amongst others.
In a few instances, the FSC Mauritius also met with the representatives of the MCs where the remedial plans submitted were not aligned with the required standards.