Print Article
KNOW YOUR 3 TIER CONTROLLERS - U.K. issues Sanctions Russian against Oligarch Mikhail Fridman Executive Assistant Nigina Zairova
22/04/2022
A Russian sanctioned oligarch Mikhail Fridman,  transferred ownership of the three entities to a an executive assistance [Nigina Zairova] [not a wealthy sanctioned oligarch!!]
Soon after the EU sanctioned him on February 28, and
Almost two weeks ahead of the U.K.'s announcement on March 15 that it was also sanctioning him.
However, Her Majesty's Treasury issued a mass designation of 206 persons for its Russia sanctions on April 13, including Mikhail Fridman, executive assistant
The sanctioning of this obscure individual, to whom Fridman transferred ownership of three U.K.-registered entities six days after Russia began its invasion of Ukraine, calls out an apparent attempt to move assets out of the coverage of U.K sanctions.
This action demonstrates that HM Treasury is scrutinizing the actions of Fridman and other sanctioned Russian oligarchs and will act to counter their moves to shelter their assets from sanctions.
MORE INFORMATION
Mikhail Fridman,
IS A sanctioned OLIGARCH WORH $12.5B https://www.forbes.com/profile/mikhail-fridman/?sh=11094707266e
He is cofounder of Alfa Bank, Russia's largest non-state bank, was hit with sanctions after Russia invaded Ukraine.
Soon after, Fridman (who also has Israeli citizenship) stepped down from his Luxembourg holding company, LetterOne, and reduced his shareholding.
Fridman's properties in London, including the $100 million Victorian-era Athlone House estate where he mostly lived, have been frozen by the U.K.
A Ukraine native, Fridman and his college buddies German Khan and Alexei Kuzmichev started commodities trader Alfa-Eco in 1989.
Thanks to Kremlin connections (one of his employees who later served as Putin's chief political advisor) he acquired additional assets in telecom, banking and oil.
In 2013 he made $5.1 billion in cash when the trio and partners sold stakes in oil giant TNK-BP for $14 billion.
Nigina Zairova  
Zairova, born in Uzbekistan in 1987, is a national of Uzbekistan and the U.K. and has a residence in the U.K.
Zairova has held positions as the director of U.K.-registered entities owned by Mikhail Fridman, including Athlone House Ltd., a private limited company incorporated in 2020, and Reashon Holding Ltd., a private limited company incorporated in 2019.
On March 2, Zairova became the legal owner of
Athlone House Ltd.,
Reashon Holding Ltd., Reashon Ltd. had been incorporated on the same date as Reashon Holding Ltd., with a different individual as its director. and
A third Fridman-owned U.K. entity named Reashon Ltd.
The UK sanctions notice declared that in the absence of evidence that the transfers of ownership of the three entities to Zairova were arms-length transactions,
"There are reasonable grounds to suspect that Zairova is acting on behalf or at the direction of Fridman," and
"Zairova is therefore associated with and/or acting on the behalf of or at the direction of a person involved in destabilising Ukraine or undermining or threatening the territorial integrity, sovereignty or independence of Ukraine, or obtaining a benefit from or supporting the Government of Russia."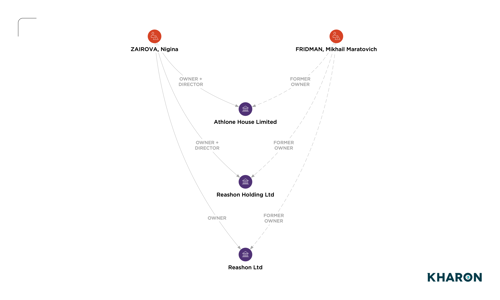 https://brief.kharon.com/updates/uk-sanctions-executive-assistant-to-russian-oligarch-mikhail-fridman/?utm_content=205403179&utm_medium=social&utm_source=linkedin&hss_channel=lcp-11688499
YOUTUBE-IMAGE
SANCTIONS
UNITED KINGDOM