Print Article
Jersey Money Service Business Helps Facilitate Tax Evasion
09/06/2021
Ivan Scott Butler, who used a Jersey JFSC regulated Money Service business to hide his wealth, has had nearly $1 million of his assets repatriated to the US.
Butler admitted using Goldmoney Wealth Limited, registered in Bond Street in St Helier, to conceal assets he did not file or pay any US taxes by placing precious metals with the company.
Ivan Scott Butler was convicted of tax evasion in the US in October last year. And he was sentenced to 24 months in prison and ordered to pay 2.5 million in unpaid taxes and tax penalties. The conviction led to a request asking for voluntary repatriation to Jersey's Attorney General Mark Temple.
Butler was an automobile industry consultant who also sold vehicle warranties and started purchasing precious metals to conceal his assets and move money to Switzerland. US media have reported that Butler was a recognised 'tax defier' – someone who refuses to pay taxes because they believe that the government lacks the legal authority to impose them.
Butler spent more than 20 years hiding money and assets in Switzerland and Jersey, including transferring his assets into precious metals from 2008. And rather than getting paid directly, he used two Nevada-registered nominee corporations to conceal receipt of his income. He did not file tax returns or pay any taxes, and in about 1999, he began to move money into multiple Swiss insurance annuities through a Swiss asset manager.
He began to be pressured in 2013 by the Swiss to disclose his accounts and took steps to convert these assets to precious metals through Goldmoney Wealth Limited
Jersey Response  
Mr Temple worked with the United States Department of Justice to repatriate £983,107.54 to the US Treasury last month, with the assistance of the Joint Financial Crime Unit.
Mr Temple said:
'The exemplary work carried out by the Mutual Legal Assistance Team of the Law Officers' Department and the Jersey Financial Crimes Unit demonstrates that the Jersey authorities are eager to work with overseas agencies and that the Island is no place to hide from the tax authorities of any jurisdiction.'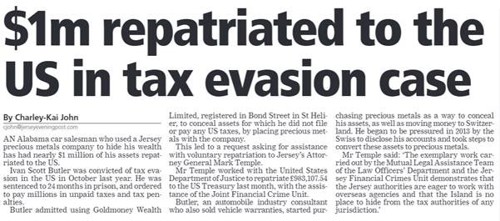 SOURCE - JEP 5 June 2021
https://www.bbc.co.uk/news/world-europe-jersey-57357523 / https://www.bailiwickexpress.com/jsy/news/sent-home-alabama-jersey-repatriates-1m-criminal-money-us/#.YL-d9vlKhyE /