Print Article
Jersey Financial Crime Typologies published for 2023.
27/01/2023
The FIU has issued a Jersey Financial Crime Typologies document, click the link.
There are 20 typologies over 30 pages.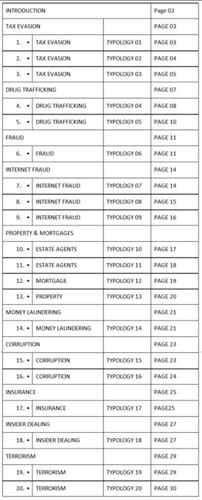 As in introduction to the publication, Detective Inspector Louise Clayson offers the following:-
The typologies take into account the money laundering risks identified in Jersey's National Risk Assessments and draws upon the financial crime intelligence held by the Jersey Financial Intelligence Unit and also the experience of law enforcement officers, regulators, the finance industry, litigators and insolvency practitioners.
In compiling the typologies, emphasis has been placed on including the most prevalent types of money laundering that our finance industry may be exposed to, but also emerging risks seen globally and identified by our international partners. Where cases have been successfully prosecuted the link to the full judgment is provided to allow readers the opportunity to gain a deeper understanding of how the money laundering occurred.
The typologies are divided into sector specific examples, under the headings of Banking, Funds Services Business, Trust and Company Service Providers, Investment Business, Insurance, Money Services Business, Estate Agents, Dealers in High Value Good and Legal Professionals.
The document also acts as a self-learning tool with links to other helpful credible material available online, culminating in a knowledge check enabling readers to verify their understanding of the red flags associated with sector specific money laundering risks.
This document will be updated annually and reissued.
If you consider that an emerging typology should be included in the next update, please email the details to the Jersey Financial Intelligence Unit at fiu.admin@jersey.jersey.police.je
As you will see from the judgments identified in this document, Jersey has in the past led in the fight against money laundering and understanding the modus operandi that criminals use to launder their ill-gotten gains.
By studying this typology document, you will help us in the continuing fight against financial crime and removing the profits out of the hands of criminals, seizing such assets, and using confiscated assets to reduce the impact of financial crime upon society.
Thank you for taking the time to read our document.
Detective Inspector Louise Clayson
Head of the Jersey Financial Intelligence Unit
Source Link https://jersey.police.uk/media/657702/typologies-booklet-2023.pdf