Print Article
JERSEY connected to the U.S.seizure of two Abramovich aircraft worth over $400 million
08/06/2022
A Boeing and Gulfstream are owned and/or controlled by Roman Abramovich through a series of shell companies in
Jersey roles are:-
WOTTON OVERSEAS HOLDINGS LIMITED
Company Number EXTUID_352695 / 30 June 2017 (almost five years ago)
50 La Colomberie St Helier Jersey  JE2 4QB Jersey
Directors / Officers = ZEDRA TRUST COMPANY (JERSEY) LIMITED, administrator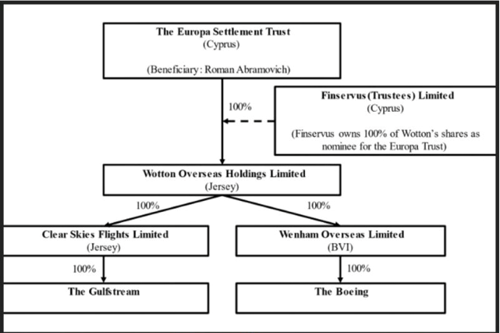 Some facts
Abramovich's representatives disclosed during meetings that Abramovich was the UBO of Wenham and that he had a Russian mailing address.
Corporate documents indicated that Wenham was a wholly-owned of Wotton.
All of the shares of Wotton were owned by Finservus, as nominee for the Europa Trust, and Abramovich was the beneficiary of the Europa Trust.
Abramovich was the UBO of ClearSkies, whose authorized representatives were individuals affiliated with one of Abramovich's investment vehicles, MHC Services (Limited), with an address associated with the Chelsea Football Club, the professional English soccer team that Abramovich then owned.
All of the information is available on the DOJ website
Source link  https://jerseyeveningpost.com/news/2022/06/08/roman-abramovich-us-officials-uncover-more-links-to-jersey/