Print Article
Jersey AML/CFT SAR rules aide memoir
11/09/2023
The FIU has published a helpful aide memoir for NPOs, albeit helpful to all regulated people. Please take a look here or read below.
The FIU SAYS
What to do if you have knowledge, suspicion, or reasonable grounds for suspicion that terrorist financing and/or money laundering activity is present?
A Suspicious Activity Report (SAR) must be filed with the Financial Intelligence Unit (FIU) and not the Jersey Financial Services Commission (JFSC).
A SAR is the format by which knowledge, suspicion, or reasonable ground for suspicion of money laundering and terrorist financing are reported. A SAR allows information and intelligence to be formally passed to law.
Enforcement agencies- helping them prevent, detect, investigate, and prosecute crime.
Details on the requirements under the Proceeds of Crime (Jersey) Law 1999 and Terrorism (Jersey) Law 2022 can be located on page 2 of this flow chart.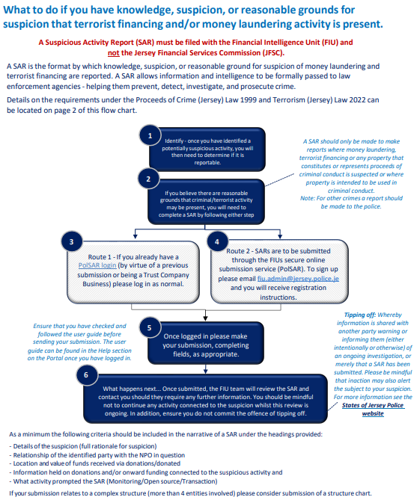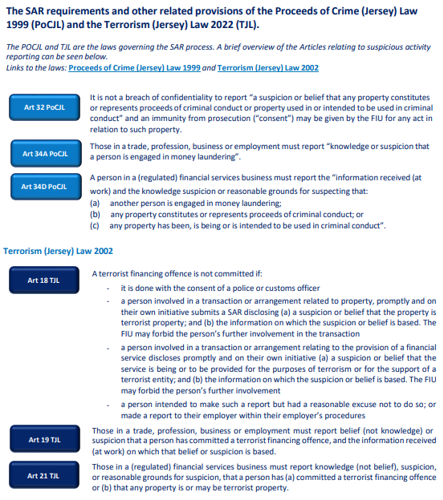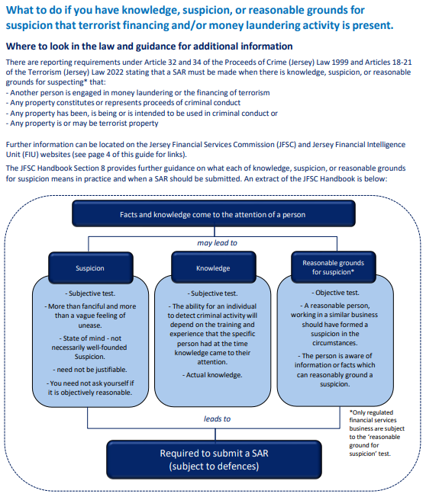 https://jersey.police.uk/media/674146/FIU-SAR-Process-Flow-NPO.pdf