Print Article
GFSC Thematic Review of AML BRAs – SUMMARY OF AREAS OF IMPROVEMENT
31/12/2022
The GFSC issued [15th December 2022]  its report on the thematic review of business risk assessments ON money laundering and terrorist financing
The thematic was undertaken to assess more than 100 licensed and registered firms [across all sectors] and how well firms identified and assessed these risks to their businesses.
The results were positive, demonstrating that most Business Risk Assessments met Bailiwick's regulatory requirements.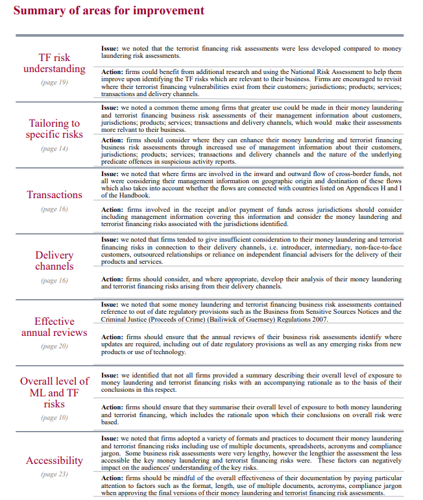 A copy of the thematic review is here.
SOURCE
https://www.gfsc.gg/sites/default/files/2022-12/20221215%20-%20ML%20TF%20BRA%20Thematic%20Review.pdf