Print Article
Firms warned after increase in email scams
26/09/2019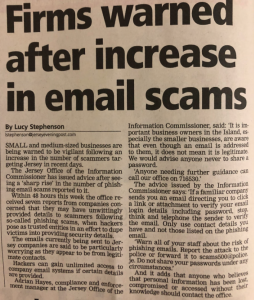 Don't click links or attachments in suspicious emails.
Until you can verify that an email is legitimate, skip the links.
Dangerous URLs, often hyperlinked with friendly language like "click here," and attached documents may contain malware or ransomware, or lead to a fraudulent website set up by attackers.
Trust your instincts.
In some cases, phishing emails and fake websites can look official. Phishing emails may even appear to come from a known sender.
What gives them away may be subtle — an unusual salutation, an urgent or uncharacteristic request, an unofficial-looking URL.
If something seems odd or surprising, be suspicious: It could be phishing.
Don't be intimidated.
A common phishing tactic is to threaten penalty, loss of service, or other consequences for not acting quickly.
Slow down and look at the message carefully.
Could it be a phishing attack?
When in doubt, reach out.
If you don't trust an email, the best course of action is to call or text the alleged sender, or open a browser and type in the official website URL to learn more.
Legitimate organizations, will never ask for your username or password, especially via email.
Never, ever give up your username and password.
If in doubt about anything please contact me soonest
Thank you
Mathew