Print Article
Financial Action Task Force (FATF) [e.g. MoneyVal] mutual evaluation process – how it works?
03/08/2023
Jersey is having its FATF mutual evaluation [AKA. MoneyVal]. The purpose is to assess its efforts in combating money laundering and terrorist financing.
How does this work
Peer reviews by FATF members of different countries conduct and analyse the effectiveness of measures of a selected country [e.g. Jersey].
The Peer review reports on a comprehensive description and analysis of the country's [e.g. Jersey] system for preventing criminal exploitation of the financial system.
The Peer report includes specific recommendations to strengthen the system.
The mutual evaluation report assesses a country's
measures against money laundering, terrorist financing, and proliferation of weapons of mass destruction.
Actions in addressing designated terrorists or organisations risks
The evaluation consists of two components:
Technical compliance - Technical compliance assessment examines the legal framework and the implementation of laws.
Effectiveness - Effectiveness focuses on on-site visits to collect evidence and determine whether the measures function well.
The process is as follows:- [also described below]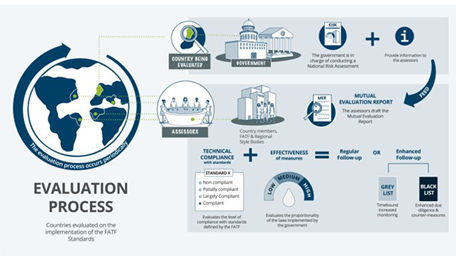 The process takes around 18 months and involves several stages:
1) Assessor training educates national experts on FATF Recommendations, enhancing compliance measures and the assessors are selected from member countries, regional bodies, and observer organisations.
2) Country training ensures representatives understand evaluation requirements.
3) Assessors are chosen based on expertise appointed by the President without input from assessed countries.
4) Technical compliance involves the assessed country providing information on existing laws and regulations. Assessors verify compliance and draft a report with ratings.
5) Scoping determines evaluation focus, considering threats, vulnerabilities, and maturity in combatting financial crimes.
6) On-site visits collect data on system effectiveness in the evaluated areas.
7) The mutual evaluation report, including effectiveness and compliance findings, is finalised with input from the assessed country. Independent reviewers review the report.
8) The draft report is presented to the FATF Plenary for discussion and consensus.
9) Following Plenary approval, member countries review the report for technical quality before publication.
10) Countries are expected to address deficiencies identified in the evaluation through post-assessment monitoring, ranging from reporting improvements to issuing public warnings against insufficient progress.