Print Article
FATF EFFECTIVE SUPERVISION AND ENFORCEMENT BY AML/CFT SUPERVISORS
25/07/2023
For achieving effective compliance with the FATF Recommendations, countries are guided by the following comprehensive graphic overview for effective supervision and enforcement as below.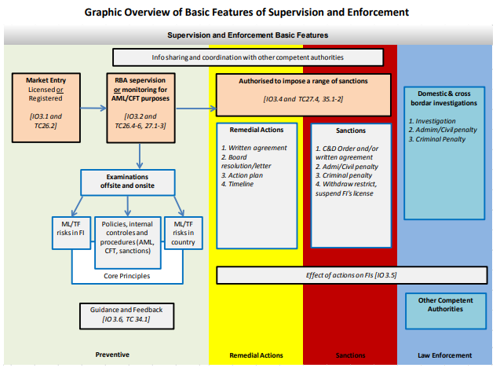 Source https://www.fatf-gafi.org/en/publications/Fatfrecommendations/Rba-effective-supervision-and-enforcement.html
To achieve its intermediate outcomes, the FATF has identified 11 key goals that an effective AML/CFT framework should achieve. These key goals or 'immediate outcomes' are organised by thematic goal. During its mutual evaluations, the FATF will assess the effectiveness of a country's efforts against each of these 11 immediate outcomes.
The extent to which a country implements the technical requirements of each of the FATF Recommendations remains important, they are after all the building blocks for an effective framework to protect the financial system.
But, adopting compliant laws and regulations is not sufficient. Each country must enforce these measures and ensure that the operational, law enforcement and legal components of an AML/CFT system work together effectively to deliver results: the 11 immediate outcomes.
During an assessment, the FATF will look for evidence that demonstrates how well all these components are working together in the context of the risks that the country is exposed to.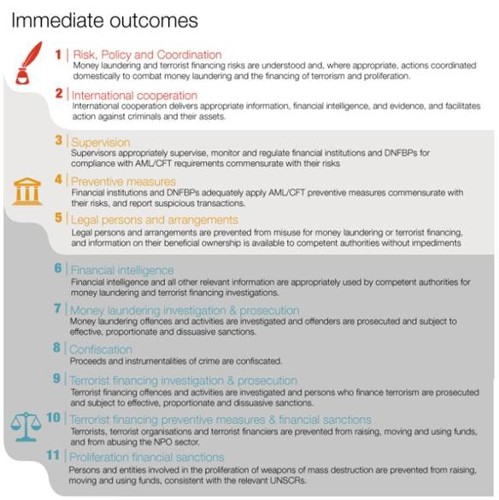 https://www.fatf-gafi.org/content/dam/fatf-gafi/images/illustrations/Effectiveness-IO.gif