Print Article
Don't be fooled – Jersey Sch 2 directors must still do CDD on 1st Oct 2023 and thereafter!![CDD = ID&V, profile, and risk assessment]
20/09/2023
Recent changes to the Money Laundering (Jersey) Order mean that certain articles [Articles 7, 8, 9, 9A, 10, 11, 11A and 12] of the law no longer apply to sole trader Schedule 2 directors until 30 September 2024.
But as shown below [JFSC appendix A],  the JFSC aide memoir reminds all Sch 2 directors that CDD is required – CDD is in article 3 of the order, as follows.

As well as CDD, the following AML/CFT/CPF MLJO obligations are still needed:-
✅ Record-keeping requirements
✅ Suspicious activity reporting
✅ Sanctions breach reporting
✅ Awareness of obligations
Also, the JFSC has yet to indicate what parts of its AML CODE/GUIDE are not required to be followed.
To check what CDD means in Article 3 – look at the following aide memoir, which includes ID&V, profile, and risk assessment.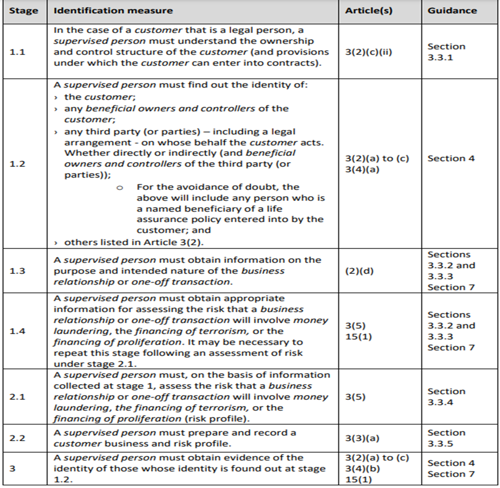 SOURCE – latest version of the above is here = https://www.jerseyfsc.org/media/7018/handbook-section-3-clean.pdf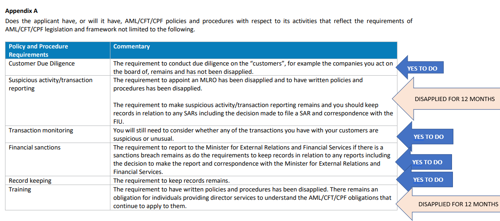 Source
https://www.jerseyfsc.org/media/7032/sbl-application-form-guidance-for-individual-sole-trader-schedule-2-directors.pdf
THE AMENDMENT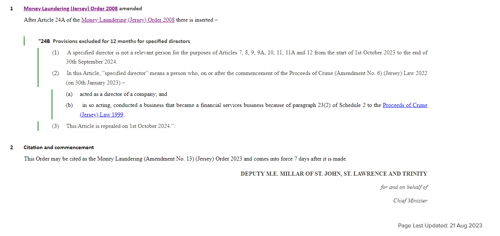 Source
https://www.jerseylaw.je/laws/enacted/Pages/RO-070-2023.aspx
12 MONTHS CARVE OUT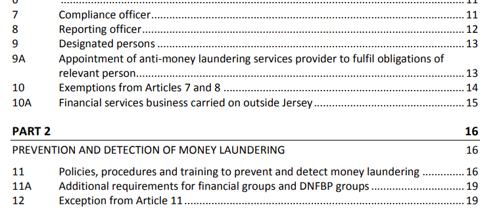 Source