Print Article
Customer risk assessment tested and reported by the JFSC
03/02/2022
The JFSC has identified 47 findings identified across 13 supervised businesses following a CUSTOMER RISK ASSESSMENT thematic examination
The JFSC  undertook a thematic examination to assess the extent to which supervised businesses had applied a suitable risk-based approach to customer due diligence measures.
The JFSC  also considered whether they had adequately assessed the risk that their business relationships, or one-off transactions, would involve money laundering and terrorist financing.
The examinations covered
14 supervised businesses,

With no findings identified at one of them.

For the remaining 13,

47 findings were identified;

And

44 within the scope of the theme and
Three outside of the scope of the theme.
The following chart shows the breakdown of the findings from the examination.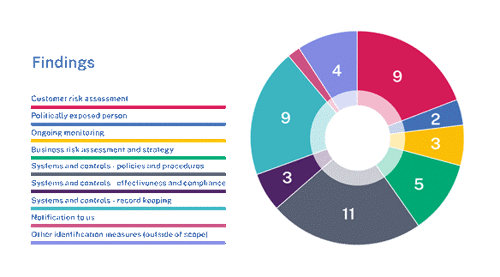 In addition to the examinations,
The JFSC  issued a questionnaire to a further 19 supervised businesses, with the responses considered alongside the findings.
Outcomes
There were many examples of good practice identified.
Boards and senior management are encouraged to consider enhancements to systems and controls in line with the good practice described in section 5 of the paper.
Read the full feedback paper.
The JFSC will host a webinar at the end of March, taking a more detailed look at the findings.
READ MORE