Print Article
COMSURE AML risk assessment tool sparks fresh interest
14/09/2021
Comsure has developed a simple but effective risk measurement online tool (currently called "itrackAML").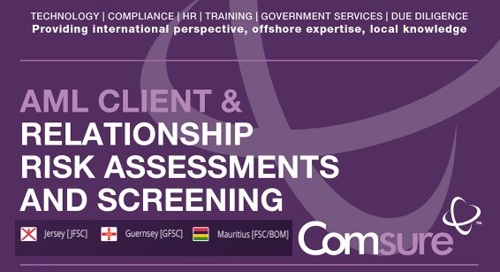 Along with local requirements (JFSC/GRF, MFSC, SFSA etc.) ITrack meets the standards required by international regulatory bodies and international standard setters such as
ITrack provides a bulletproof system to allow firms to demonstrate to "Regulators" the robustness of their AML systems, including
Client Take On,
Verification*,
Risk Assessments,
Monitoring,
Management reporting (e.g. Pie/Bar summary graphs)
Reporting (Inc. Suspicious Activity Reports [SARs]) and
Record-Keeping (and GDPR data management)
*As an enhancement to the core functionality of iTrackRisk, Comsure can also offer ITrackSanctions - ITrackSanctions offers data screening through APIs into Sanction data (OFAC, UN, EU*) and Politically Exposed Person [PEP] [and other high-risk information] and Adverse Media data through a dedicated matching engine and Data suppliers such as:
World-Check, Dow Jones (*) - [*Please note we can, if so requested, work with other data providers if so directed - if we can API into them, we can work with them!!].
These data sets can be matched singularly or batched as and when requested.
For further information, and see at a glance the core functionality of iTrackRisk