Print Article
BEWARE - Not all Taliban leaders are subject to sanctions?
18/08/2021
With the Taliban's takeover of Afghanistan, Castellum.AI reviewed who in the Taliban leadership is under sanctions and found that despite being the leader of an insurgency that has killed over two thousand US soldiers, the current leader of the Taliban is not sanctioned by the United States, or anyone else!! Even more strange, Russia has imposed more sanctions against the current Taliban leadership than the United States.
Castellum.AI  review the above and other anomalies, and they found in the above data the following: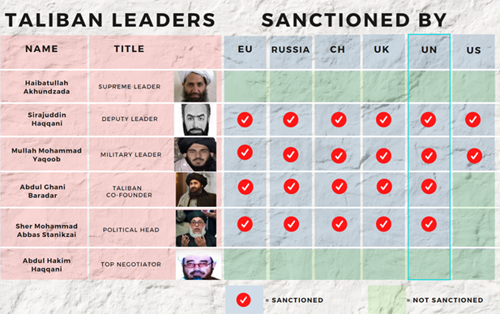 The movement's current leader, Haibatullah Akhundzada, is not sanctioned by anyone globally;
It is likely because he was elevated to his current role in 2016, at a point in the conflict when it seemed that the Taliban would remain insurgent and not a political threat. As such, sanctions are of limited use, especially against individuals that likely never use the formal financial system and lack bank accounts.
The US has fewer sanctions against current Taliban leaders than Russia and European countries;
It is very surprising because the US was behind the initial push of anti-Taliban sanctions in 2001, which led to the ground-breaking UN resolution 1373, which authorized UN sanctions against the Taliban and Al Qaida.
Ironically, despite being the primary force behind these sanctions, the US does not implement UN sanctions.
The US thus never imposed UN sanctions against Abdul Ghani Baradar and Sher Mohammad Abbas Stanikzai, but also never imposed its autonomous sanctions, likely because it so quickly deposed the Taliban that it considered the matter irrelevant.
Another possible explanation for the lack of sanctions on Baradar, Stanikzai and Abdul Hakim Haqqani is that all three were key negotiators.
The governments generally do not like to impose sanctions on their negotiating partners a good way to say we're ending talks - not starting them.
Methodology
AI reviewed global news sources to obtain names of top Taliban leaders and then screened those names within our database.
AI obtains global sanctions information from primary sources and then proceeds to standardize and clean the data, extract critical information like IDs and addresses from text blobs, and enrich the entries with additional information.
AI enriches as many as fifteen separate items per entry. This analysis is based on the enriched primary source data that populate our database.
The database consists of over 900 watch lists, covering over 200 countries and seven different categories (sanctions, export control, law enforcement most wanted, contract debarment, politically exposed persons, regulatory enforcement and elevated risk). Castellum.AI  update our watch lists every five minutes directly from issuing authorities.
Sourced from = www.castellum.ai/insights/taliban-sanctions