Print Article
A Ukrainian sanctioned Russian billionaire sets up shop in the U.K. on the 3rd March 2022
04/03/2022
The following named company, "App in the air U.K. Ltd" was incorporated in the U.K. on 3rd March 2021,
The Person with Significant Control shown I.S.:-
Mikhail Shelkov,
Date of Birth: May 1968,
Russian living in Russia
The above is the same name and age as Russian billionaire Shelkov, https://www.forbes.com/profile/mikhail-shelkov/?sh=796550445bd6
On 18th June 2021, President Volodymyr Zelenskiy announced fresh sanctions against two notable Ukrainian nationals with links to Russia the prominent businessmen Dmytro Firtash and Pavel Fuchs.
The Ukrainian National Security and Defence Council also imposed sanctions against
The CEO of Rostec, Sergey Chemezov, and
The Vice Chairman of VSMPO-AVISMA, Mikhail Shelkov.
Under the Ukrainian constitution, sanctions can only be brought against Ukrainian nationals on grounds of treason.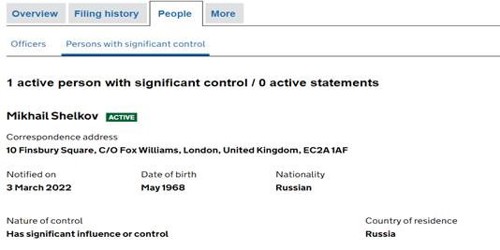 UNITED KINGDOM
SANCTIONS
YOUTUBE-IMAGE