Print Article
50,000 UK properties still have unknown owners
07/02/2023
Owners of around 50,000 UK properties held by foreign companies remain hidden from public view, despite new transparency laws.
INTRODUCTION
The Register of Overseas Entities, launched in August 2022, was meant to reveal who ultimately owns UK property.
But an analysis by BBC News and Transparency International found that almost half of the firms required to declare who is behind them failed.
The UK government has long promised to crack down on "corrupt elites" from overseas, including "Russian oligarchs and Kleptocrats", using UK property to launder illegal wealth.
As a result, under a law passed in February 2022 in response to Russia's invasion of Ukraine, ministers said

Anonymous foreign companies seeking to buy UK land or property would be required to reveal full details of the individuals who ultimately owned them.
Overseas organisations that owned land in the UK were given a six-month period to do the same.

Now that the six-month grace period is up –

All the people, whatever their reputations, behind companies that own thousands of British properties should have been uncovered for the first time.

The BBC and Transparency International matched thousands of filings from the new register with Land Registry records.

This analysis suggests that some 18,000 offshore companies - which between them hold more than 50,000 properties in England and Wales - either ignored the law altogether or filed information in such a way that it remains impossible for the public to find out who the individuals are who ultimately own and benefit from them.

Duncan Hames, Director of Policy at Transparency International UK, said

"While the register is starting to serve its intended purpose, our analysis reveals there are far too many companies that could be trying to skirt the rules, not knowing they exist, or ignoring them altogether,"
THREE CASE STUDIES
To understand how the law is and isn't working, it helps to look at three very expensive properties.
A £48m estate in north London,
A £10m country mansion.
TWO luxury apartments totalling £11m
All of the above are owned [or suspected to be owned] by individuals linked in some way to figures connected with Vladimir Putin's regime.
Beechwood House + Alisher Usmanov
Take Beechwood House, a north London estate bought for £48m in 2008 with a value of around £85m.
After Russia invaded Ukraine 12 months ago, the UK government came down hard on wealthy people close to Putin's regime. Assets were frozen, stopping rich Russians from taking their money out of the UK.
But it wasn't always clear exactly which assets belonged to these oligarchs.
For instance, Beechwood House was listed by the government as owned by oligarch and ex-Arsenal shareholder Alisher Usmanov when it announced sanctions against him.
A spokesperson for the oligarch told the BBC that

He transferred Beechwood House, as well as other assets, to family trusts "long before sanctions were imposed" and
That while Mr Usmanov was a beneficiary for a period of time, he withdrew "on an irrevocable basis".

The spokesperson added:

"Neither Mr Usmanov nor members of his family are the beneficial owners of these companies."

You would think the register should shed light on who actually owns Beechwood House. But it does not.
The owner is given as

Hanley Limited, an Isle of Man company.
And in turn the beneficial owner of Hanley Limited is Swiss company Pomerol Capital SA, which controls it as part of a trust structure.

However, nothing about the individuals who own Pomerol Capital is listed on the public register.
That is because companies owned through trusts - as opposed to other set-ups - are exempt from having their beneficial owner information made public on the register.
So from the filing, it is impossible to identify the people who own, control or stand to benefit from Beechwood House- a property that the government itself said was owned by Mr Usmanov, which would have made it subject to an asset freeze.
While the names of individuals linked to trusts are not included in the register, companies do have to provide their details privately to the corporate registry Companies House.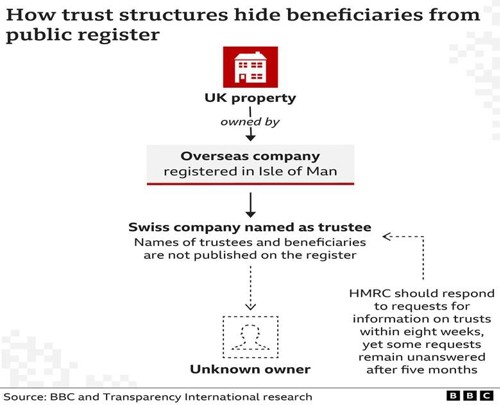 A Panamanian company acquired a countryside mansion & Vladimir Chernukhin, and his wife, Lubov.
Among these is Uart International, a Panamanian company that, according to Land Registry records, acquired a countryside mansion in 2008.
As part of the Pandora Papers, a leak of almost 12 million files, the property was owned through an offshore corporate network controlled by Vladimir Chernukhin and his wife, Lubov.
Mr Chernukhin is a former Russian deputy minister of finance and businessman who had financial links to oligarchs close to the Kremlin.
He moved to the UK after being sacked by Putin in 2004 and insists he is not a supporter of the Russian president.
His wife Lubov, whom he married in London in 2007, is a major donor to the Conservative Party, having given the Tories more than £2.3m since 2012.
Companies House records show that Uart International lists another foreign firm as its "person of significant control".
This means that the individuals who ultimately own the property remain hidden from the public register, despite the change in the legislation.
Under the new regulations, another anonymous offshore firm should not be named as the owner of a company with UK property.
There is no indication in the filings that the company owner is a trustee, which would exempt the firm from having their person of significant control revealed on the register - suggesting it could be a violation of the rules.
Lawyers for the couple told the BBC that

"Mr and Mrs Chernukhin do not support, and have never supported, the policies of President Putin, nor are they allies of President Putin" and
that they are "unaware of Uart ever having made corporate filings contrary to the applicable rules and regulations in all relevant jurisdictions".
Two luxury flats in central London worth an estimated £11m + Igor Shuvalov
For instance, look at the two luxury flats in central London worth an estimated £11m.
Their ownership by the former Russian deputy prime minister, Igor Shuvalov, was first reported by the Anti-Corruption Foundation, set up by jailed Russian opposition leader Alexei Navalny.
According to the UK government, which placed him under sanction in March 2022, Mr Shuvalov - who heads the management board of a Russian bank - is "a core part of Putin's inner circle".
And now the register has confirmed that he and his wife are the ultimate owners of the flats, held through a Russian company, Sova Real Estate LLC.
Mr Shuvalov's spokesperson told the BBC last year that these issues "have been the subject of competent government audits" and that "no complaints were ever filed".
But while there are thousands of examples where the register works, the ultimate ownership of thousands of properties remains shielded from public view.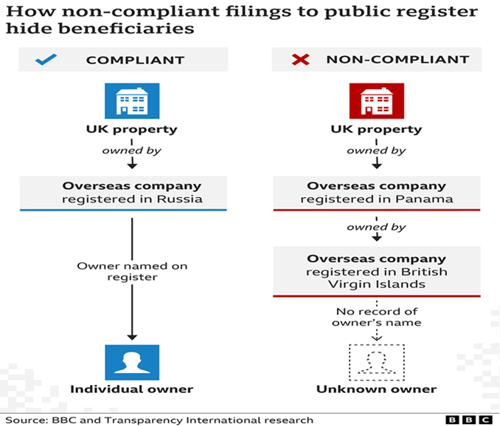 AND THERE IS ……
companies that have filed their details to the property register but have not complied with the rules.
The BBC's investigation has identified more than 1,800 companies whose filings do not appear to do so.
31 January 2023 DEADLINE MISSED
And many other owners have found an even more straightforward means of keeping their names off the register - by simply not complying with the new legislation.
Overseas companies with property in the UK - bought since January 1999 in England and Wales and since December 2014 in Scotland - were supposed to reveal the identity of their owners by 31 January.
But around half of the offshore firms with property in England and Wales - approximately 15,000 - had no matching record in the property register before last week's government deadline.
ROMAN ABRAMOVICH.
This includes the company that owns a £90m home in west London linked with former Chelsea owner Roman Abramovich.
The Cyprus-based firm does not yet appear to have submitted its details to the property register.
Mr Abramovich could not be reached for comment.
SOME NUMBERS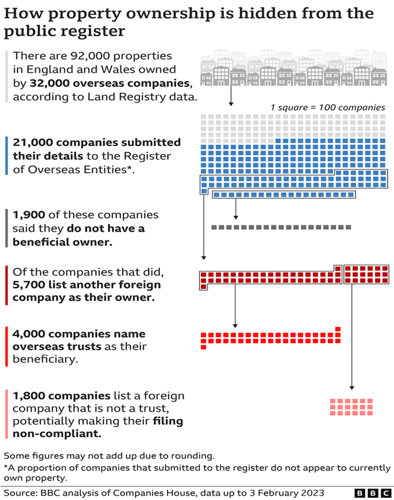 Source BBC + Additional reporting by Liana Bravo, graphics by Jana Tauschinski =