Print Article
JFSC report says Comprehensive changes needed for EDD and SDD Measures and Exemptions
21/09/2021
The JFSC has said [20 September 2021]
Comprehensive changes are needed for some businesses to fully comply with Enhanced and Simplified Due Diligence Measures and Exemptions
Following recent examinations, several regulated businesses will need to make comprehensive changes to their systems and controls to fully comply with the requirements for Enhanced Customer Due Diligence, Simplified Customer Due Diligence and Exemptions.
This statement follows a recent thematic visit to 10 businesses and 20 QA surveys
TEN BUSINESSES were visited, including deposit-taking businesses, fund services businesses, investment businesses, and trust company businesses.
Also, a questionnaire to 20 businesses across all sectors and considered their responses alongside our examination findings.
These visits found:
The findings highlight a range of statutory obligations and regulatory requirements that were either not complied with or were only partially in compliance.

Two of the businesses were fully compliant,
x8 partially compliant - 22 findings of which five were not part of the examination's scope [out of scope].
The 'out of scope' results are related to preventing and detecting money laundering and terrorist financing.

The following chart shows the breakdown of the 22 findings which were within the scope of our examination.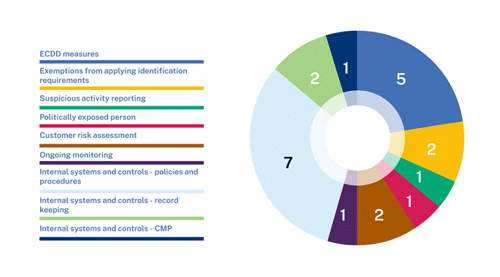 Read the full feedback paper. https://www.jerseyfsc.org/industry/examinations/ecdd-scdd-and-exemptions-examination/
Webinar – 13 October 2021
On Wednesday, 13 October, Amanda Reilly, Head of Examinations, Sarah Valerkou, Senior Manager Supervision Examination Unit and Hamish Armstrong, Chief Adviser – Financial Crime, will host a webinar taking a more detailed look at the findings.
Learn more about the webinar and register.
https://www.eventbrite.co.uk/e/ecdd-scdd-and-exemptions-examination-webinar-tickets-175541608677