Print Article
Comsure tips - The compliance function framework toolkit
29/04/2021
A firms Compliance function establishes and maintains an independent governing framework for managing
Regulatory Compliance,

Financial Crime and

Conduct Risks
The Compliance Function framework
A

rticulates the function's approach to risk management, which has a material impact on delivering the FIRM's strategy.

Provides the process for risk management, including

I

dentifying,

M

easuring,

M

anaging,

R

eporting and

E

scalating
A FIRM's Compliance function framework includes:
T

he strategy,

T

he compliance programme,

A

n approach to sound risk-taking,

Governing information – critical firm policies, e.g. the compliance policy

A toolkit and processes and systems aimed at managing risks overseen by Compliance Function (see Figure below).
A vital component of the Compliance Function framework is
A

rticulating the roles and responsibilities for managing Regulatory Compliance, Financial Crime and Conduct Risks.
The Compliance Function framework is
U

nderpinned by the capability of its employees and a sound Compliance Culture.
The Compliance Function framework
C

ontinuously assesses the possible impact of any changes in the legal or regulatory environment on the FIRM's activities and the Compliance Function framework and

S

upports the 1st line of defence in implementing the changes as required.
Figure - Compliance Function framework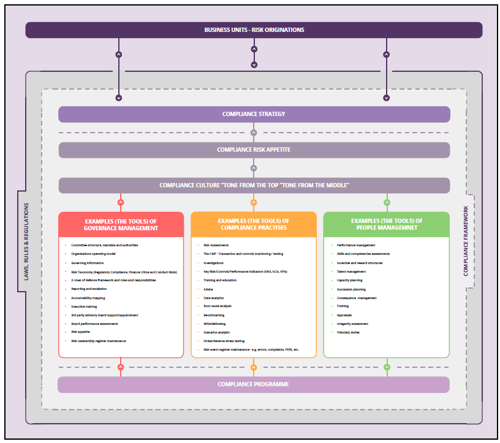 For more information on the above, please contact us on
Direct Tel: +44 (0) 1534 626841