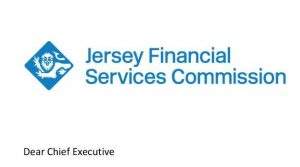 The following JFSC Dear CEO Letters are to be taken into consideration by all Jersey Regulated entities.
Please note:
Comsure DOES NOT Guarantee that the following Dear CEO Letters are all those in issue or have not been withdrawn or are complete.
If you do find any errors or missing letters, please e-mail the Comsure team at administrator@comsuregroup.com, and where possible, provide documentation.
Please note that there are
1. Sector specific Dear CEO Letters and
2. General all sector Dear CEO Letters .
These can be found by clicking the desired link below or just scrolling down
Trust and Company Business
Dear CEO – 16th March 2012 Annual Declarations
Dear CEO – 14th October 2011 COBO structures
Dear CEO – 6th June 2011 Company formations
Dear CEO – 22nd October 2010 Conflicts of Interest
Dear CEO – 23rd September 2008 Cobo only funds and schedule 2 POC
Dear CEO – 20th June 2008 Common regulatory shortfalls
Dear CEO – 24th October 2006 SPV audit letter
General Insurance Mediation Business
Dear CEO – 16th March 2012 Annual Declarations
Dear CEO – 14th October 2011 COBO structures
Dear CEO – 6th June 2011 Company formations
Dear CEO – 22nd October 2010 Conflicts of Interest
Dear CEO – 23rd September 2008 Cobo only funds and schedule 2 POC
Dear CEO – 20th June 2008 Common regulatory shortfalls
Dear CEO – 24th October 2006 SPV audit letter
Funds and Services Business
Dear CEO – 16th March 2012 Annual Declarations
Dear CEO – 6th June 2011 Company formations
Dear CEO – 14th October 2011 COBO structures
Dear CEO – 22nd october 2010 Conflicts of Interest
Dear CEO – 23rd September 2008 Cobo only funds and schedule 2 POC
Dear CEO – 20th June 2008 Common regulatory shortfalls
Dear CEO – 24th October 2006 SPV audit letter
Investment Business
Dear CEO – 9th September 2011 Class C and D
Dear CEO – 6th April 2011 Key Findings 2010
Dear CEO – 26th April 2010 Key findings 2009
Dear CEO – 21st May 2008 Recent Developments
Collective Investment Funds
Dear CEO – 31st May 2012 CIF order 2012
Dear CEO – 30th April 2012 letter re Funds
Dear CEO – 16th March 2012 Annual Declarations
Dear CEO – 14th October 2011 COBO structures
Dear CEO – 3rd March 2009 2008 Overview of securities Division
Dear CEO – 23rd September 2008 Cobo only funds and schedule 2 POC
Dear CEO – 29th June 2006 Effective Due Dilligence
All Sectors
Dear CEO – 8th August 2017 Risk Based Supervision 

Dear CEO – 22nd February 2016 Cyber Security
Dear CEO – 6th December 2013 Compliance Monitoring
Dear CEO – 4th October 2013 TCB Fees
Dear CEO – 13th March 2013 Aggressive Tax Schemes
Dear CEO -7th November 2012 Second Industry Survey
Dear CEO – 23rd November 2011 Financial Restrictions on Iranian Banks
Dear CEO – 3rd March 2011 Combating Financial Crime
Dear CEO – 11th February 2011 Industry Survey
Dear CEO – 30th December 2010 UK Bribery Act
Dear CEO – 8th April 2010 Industry Survey
Dear CEO – 9th September 2008 MoME
Dear CEO – 4th April 2008 Changes to Legislation
Dear CEO – 26th September 2007 Market Turbulance
Dear CEO – 29th October 2007 update to 27th September 2007 CEO Letter